Kelsey Hixson-Bowles
Rebecca Martini
We begin this issue introducing our new graduate co-editors, Mandy Olejnik and Yanar Hashlamon, and expressing our gratitude to our outgoing graduate co-editor, Kelsey Hixson-Bowles. We'd like to thank Kelsey for her hard work and diligence in contributing to the genesis of The Peer Review as an original graduate reviewer and board member, as well as helping it evolve over the past two years as graduate co-editor. While phasing out of her role at The Peer Review, Kelsey is working to complete her dissertation.
Before introducing this issue, we'd like to share a little bit more about our new graduate co-editors. Yanar and Mandy have already started learning our processes and will be taking the lead on our next general issue. Here is a little more about where they are studying and their research interests: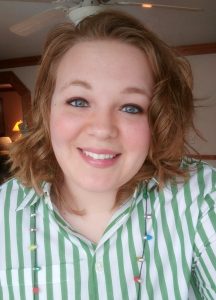 Mandy is a PhD student in Composition and Rhetoric at Miami University in Oxford, Ohio. She is currently an assistant director at the Howe Center for Business Writing (HCBW), which is a disciplinary writing center and writing across the curriculum center serving the Farmer School of Business. In this role she coordinates consultant mentoring and facilitates workshops for faculty and students. She also teaches writing courses in the business school and English department. Mandy's research interests include writing program administration, transfer, threshold concepts, undergraduate writing major programs, and critical pedagogy. These interests inform her work at the HCBW and The Peer Review, for she strives in her research, teaching, administration, and practice to partner with students in their learning and grant them agency. Mandy would like to continue the strong mentoring culture present in The Peer Review and work toward creating specific, generative guidelines for reviewers.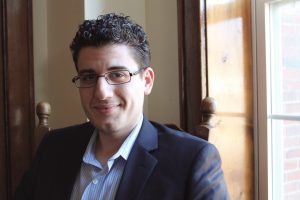 Yanar is currently an MA/PhD student at The Ohio State University, working as a graduate consultant at the OSU Writing Center. His research interests lie in anti-racist pedagogy, the evidence-based practices of writing centers, and how both are brought to bear upon professionalization and institutional assessment. Yanar also researches professional and technical writing through the lenses of curriculum and disability studies. He examines the neoliberal market logics inculcated in ableist pedagogies and articulates speculative, anti-capitalist alternatives. Yanar has sole-authored and co-written work in-press at Praxis and Computers and Composition, respectively. In his position as graduate co-editor, Yanar hopes to continue pursuing a justice-oriented approach to academic and editorial work, contributing to the tradition of professionalization in writing center studies he himself benefitted from and that is present at the core of The Peer Review.
Welcome to Mandy and Yanar! We look forward to your contributions to The Peer Review and to writing center studies, more broadly.
In this issue, the authors each offer important contributions to writing center studies, that look both inward and outward, using diverse methodologies informed by a variety of contexts. We begin by looking outward toward the student populations on our respective campuses. Our first article, "English Major Representation in the College Writing Center" by Andrew Bumstead, asks the question, why don't we see more English majors, whom we know are writing often, visiting the writing center? Due to the scope of Bumstead's research, this article offers evidence from one institution; however, we expect the phenomenon is not unique to this one case study, and we look forward to learning more from future research. Olivia Buck builds on Bumstead's conclusions in her article, "Students' Idea of the Writing Center: First-Visit Undergraduate Students' Pre- and Post-Tutorial Perceptions," by examining what students understand about the writing center before they visit as well as what drives them to come in the first place. Her findings have applications not just for marketing our services, but also for our pedagogy. The next article also offers implications for our pedagogy based on perceptions from those who visit the writing center. In "Re-Examining the Tutor Informant Role for L1, L2, and Generation 1.5 Writers," Grant Eckstein questions the scholarship on tutors performing as cultural, rhetorical, and linguistic informants by surveying 200 students across the U.S. and asking them, what do you want and expect from your writing tutor? His findings have important implications for how we educate tutors to work with students of all linguistic backgrounds.
At this point, the issue turns inward with articles examining and advocating for specific tutoring strategies for different tutors consulting across diverse contexts. Mary Hedengren kicks this theme off in her article, "An Empirical Study of non-native English Speaking Tutors in the Writing Center." This piece offers data on the similarities and differences between non-native English speaking tutors' methods and native English speaking tutors' methods at one writing center. As our centers become more diverse, studies like Hedengren's and Eckstein's (especially in conversation with one another) will be increasingly relevant. While Hedengren focuses on tutors' linguistic identities, our next piece models how tutors might draw from their multiliteracies to construct their tutoring personas. John Dalton's multimodal piece, "Unity of the Creative and Tutoring Mind: A Pedagogical Analysis of Tutoring and Music," reflects on the ways in which his identity as an improv jazz musician impacts his approach to tutoring. If possible, we recommend watching the video for the full experience (though the transcript is published alongside the video).
The next two articles advocate for two practical tutoring strategies. Leanne Moore offers a tool her team in Guangzhou, China have used to help high school tutors work with students within the framework of the Common Core standards in her article, "Helping Writing Center Tutors Implement Common Core-Aligned ELL Instructional Practice." While her observations of these strategies' effectiveness will certainly be applicable for others tutoring within the Common Core framework, this insight into high school writing and tutoring will also offers those in higher education settings a window into students' and tutors' prior knowledge. Another applicable tutoring strategy is presented in "Responding to the Whole Person: Using Empathic Listening and Responding in the Writing Center" by Maureen McBride, Brady Edwards, Samantha Kutner, and Ash Thoms. This collaborative authorship argues that writing center practitioners have traditionally stopped short when addressing students' emotions in tutorials. They offer evidence of the effective use of Carl Roger's (1951) empathic listening and responding strategies. In a time of heightened anxiety and depression, such strategies should be widely considered.
Our issue wraps up with a thought-provoking review by Michael Turner of Ryan Skinnel's book, Conceding Composition: A Crooked History of Composition's Institutional Fortunes. Turner offers both summary and commentary on how Skinnel's work applies to writing center studies. His closing questions will certainly leave readers pondering alternative narratives about our work and our history.
Overall, we see these articles offering timely and powerful contributions to writing center studies for the ways they challenge existing theories, bring new data to old conversations, and offer concrete strategies for developing as writing center practitioners. We hope you enjoy these pieces as much as we have!